---
TRIVIA!
---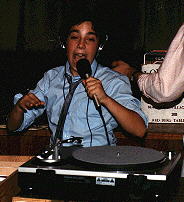 I got 2 turntables and a microphone...

WHO IS THIS?


---


This is the way its gonna work. We don't know what the prize is yet, but you'll like it. Oh yeah...you'll love it. Fill out the form, and take a guess at the answer. Only one try per valid e-mail address. Don't try and cheat. It's bad karma. The first person to get it right, wins the prize and will be notified by e-mail. Have fun!
---
We have a winner for Round ONE!!! The lucky person to guess that HAWK was the butt-hole in the baby picture won something! Who knows what the prizes will be...Good luck in Round TWO!
---
---
&copy 1997 Sassy Music

---